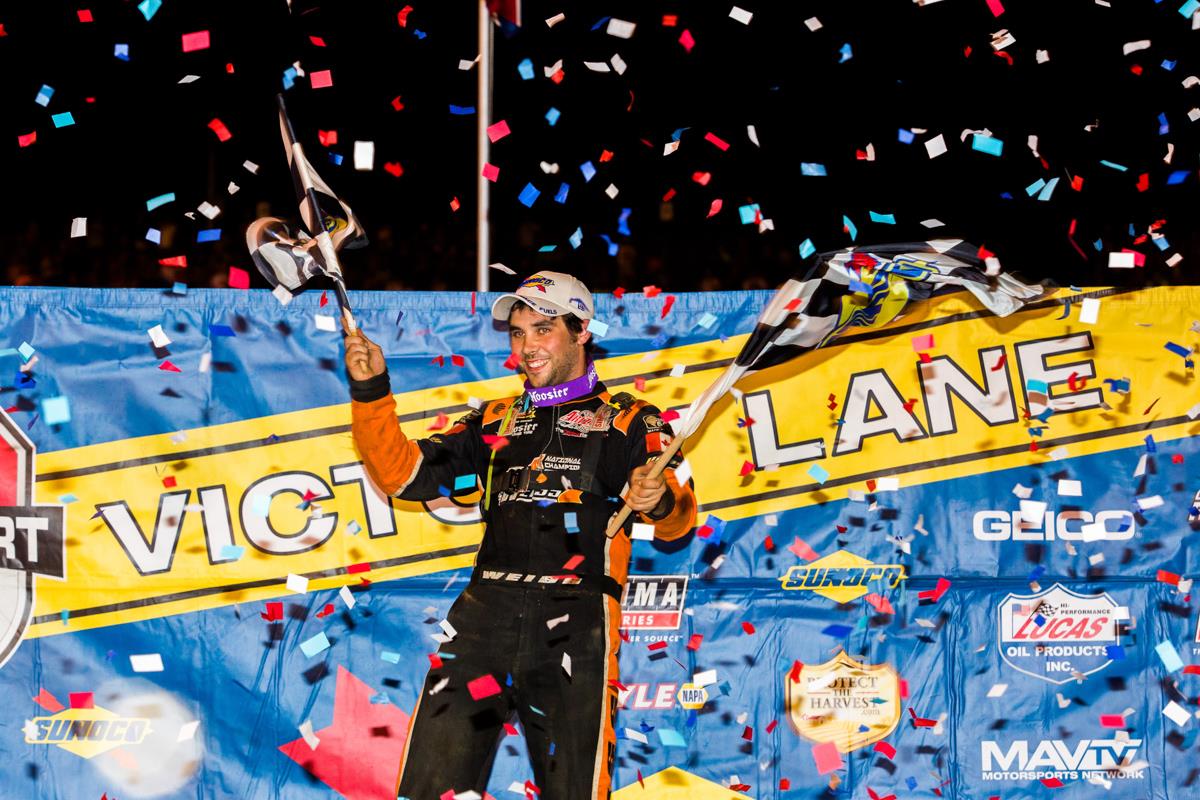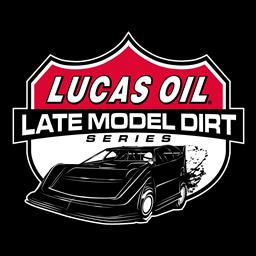 8/11/2018
Lucas Oil Late Model Dirt Series
---
Weiss Pockets $50,000 Sunoco North/South 100 Payday
UNION, KY (August 11, 2018) – Ricky Weiss scored the biggest win of his racing career on Saturday night capturing the Sunoco Race Fuels North/South 100 presented by Lucas Oil at Florence Speedway.
Weiss withstood a battle with Hudson O'Neal in the final ten laps to record his first career crown jewel win and his first Lucas Oil Late Model Dirt Series victory.
Tim McCreadie made a late-race charge to take second from O'Neal. Jimmy Owens finished in fourth and current points leader Jonathan Davenport finished fifth.
O'Neal led the first seven laps of the race before Earl Pearson Jr. took control. Pearson Jr. and Weiss ran first and second for most of the race until Pearson was forced to pit under a caution flag with a left-rear flat tire. Weiss became the new leader and seemed to be in control of the race until O'Neal made a charge for the lead on lap 90.
The final caution came out, and with nine laps left on the ensuing restart, Weiss pulled away from O'Neal and McCreadie quickly began gaining ground on the leaders. Weiss managed to hold off McCreadie who went by O'Neal on the final lap to capture the runner-up spot.
The 29-year-old Canadian racer, who finished second last month in the Silver Dollar Nationals at I-80 Speedway, was thrilled to finally get that first big win. "It will take a while to sink in. Thanks to Shawn [Gage] and Cody [Mallory], Scott Bloomquist, and everybody else on this team. It's finally paid off. We have gotten better and better. I want to thank Vic Hill; this motor ran great. These Sweet-Bloomquist Race Cars; there are none better in my opinion. It's definitely helped my program."
Weiss became the fifteenth different winner on the Lucas Oil Late Model Dirt Series in 2018. "Being door-to-door with those guys tonight, like I said it may be a few days for it to sink in. We had a good race there with Earl [Pearson Jr.]. I listened to Scott [Bloomquist] before the race and he told me not to slide the tires. It's a long race, under the caution I was trying to tell my crew guys that he [Pearson] was getting a flat tire. Then to run door-to-door with Hudson, I know it's his last-race of the year and he probably wanted to win it more than anyone."
McCreadie's bid for back-to-back wins came up short as he congratulated Weiss in victory lane. "It's good to see the payoff is now up to par with all of the other big races in the country. I just needed a little break at the end. On the restarts I was down on the bottom. The flat tire we had didn't help. The crew did a great job getting me back out on the track. I said there was no use saving the deck at the end, so I just let it go. We made up a lot of track on those guys. I hope I made a good clean pass on Hudson. Up top you get a 10 mile-an-hour faster run on someone when you go into that corner and you don't know what's going to happen."
O'Neal who won the Ralph Latham Memorial on Wednesday night at Florence ended his season with a third-place finish. "I came here to win tonight. We have had a good car all week. I feel bad for the team. I had a good week. It was a good way to go out this year. Thanks for all of the fans that support me, and I will miss all of you, but we will be back in February."
The winner's car is sponsored by A.I.E. Communications, Derrick's Sandblasting, Hawkeye Construction, Penske Shocks, Keewatin Truck Service, Allied Roofing and Mark Brandt Trucking.
Completing the top ten were Dale McDowell, Zack Dohm, Scott Bloomquist, Darrell Lanigan, and Mason Zeigler.
Lucas Oil Late Model Dirt Series
Race Summary
Saturday, August 11, 2018
Sunoco Race Fuels North/South 100 – Presented by Lucas Oil
Florence Speedway – Union, KY
Eibach Springs Heat Race #1 – ROUND ONE Finish: Hudson O'Neal, Tim McCreadie, Ricky Weiss, Rob Anderzack, Jason Jameson, Steve Casebolt , Michael Brown, Chad Stapleton, James Rice, Nick Latham-DNS
FK Rod Ends Heat Race #2 – ROUND ONE Finish: Nick Hoffman, Jimmy Owens, Don O'Neal, Michael Chilton, Chris Shannon, Rob Mayea, Darrell Lanigan, Scott James , Tyler Erb, Craig Vosbergen
Simpson Performance Products Heat Race #3 – ROUND ONE Finish: Brandon Overton, Jared Hawkins, Bobby Pierce, Dale McDowell, Robby Hensley, Kyle Bronson, Doug Drown, Jason Miller, Austin Burns
QA1 ROUND ONE Heat Race #4 – ROUND ONE Finish: Eddie Carrier, Jr., Kent Robinson, Jeremy Conaway, Josh Richards, Jackie Boggs, Gregg Satterlee, Dennis Erb, Jr., Joey Moriarty, David Webb
Sunoco Race Fuels Heat Race #5 – ROUND ONE Finish: Josh Rice, Jonathan Davenport, Scott Bloomquist, Greg Johnson, Shanon Buckingham, Zack Dohm, Trevor Landrum, Eric Wells, Billy Green
Lucas Oil Heat Race #6 – ROUND ONE Finish: Jimmy Mars, Earl Pearson, Jr., Kody Evans, Mason Zeigler, Austin Rettig, Austyn Mills, Jesse Lay, Jeff Alsip, Donald McIntosh
Eibach Springs Heat Race #1 – ROUND TWO Finish: Dale McDowell, Michael Chilton, Jimmy Owens, Eric Wells, Dennis Erb, Jr., Michael Brown, Jeremy Conaway, Donald McIntosh-DNS, Austin Burns-DNS
FK Rod Ends Heat Race #2 – ROUND TWO Finish: Ricky Weiss, Bobby Pierce, Shanon Buckingham, Jackie Boggs, Darrell Lanigan, Jared Hawkins, Rob Mayea, Jeff Alsip, James Rice
Simpson Performance Products Heat Race #3 – ROUND TWO Finish: Don O'Neal, Hudson O'Neal, Nick Hoffman, Josh Richards, Scott Bloomquist, Robby Hensley, Jesse Lay, Austin Rettig, Rob Anderzack
QA1 Heat Race #4 – ROUND TWO Finish: Zack Dohm, Kent Robinson, Mason Zeigler, Tim McCreadie, Craig Vosbergen, Trevor Landrum, Doug Drown, Nick Latham, Kody Evans, Chris Shannon
Sunoco Race Fuels Heat Race #5 – ROUND TWO Finish: Gregg Satterlee, Jonathan Davenport, Jimmy Mars, Austyn Mills, David Webb, Jason Miller, Scott James, Greg Johnson, Steve Casebolt, Jason Jameson
Lucas Oil Heat Race #6 – ROUND TWO Finish: Earl Pearson, Jr., Brandon Overton, Kyle Bronson, Tyler Erb, Eddie Carrier, Jr., Billy Green, Josh Rice, Chad Stapleton, Joey Moriarty
Penske Racing Shocks B-Main #1 Finish (15 Laps, Top 2 Transfer): Gregg Satterlee, Josh Rice, Shanon Buckingham, Darrell Lanigan, Austyn Mills, Donald McIntosh, Doug Drown, Scott James , Chad Stapleton, Trevor Landrum, Kody Evans, Rob Mayea, Steve Casebolt-DNS, Austin Burns-DNS
FAST Shafts B-Main #2 Finish (15 Laps, Top 2 Transfer): Kyle Bronson, Zack Dohm, Dennis Erb, Jr., Jeremy Conaway, Jason Jameson, Jason Miller, Eric Wells, Rob Anderzack, Jeff Alsip, Scott Bloomquist, Craig Vosbergen, Michael Brown-DNS, James Rice-DNS
E3 Spark Plugs B-Main #3 Finish (15 Laps, Top 2 Transfer): Jackie Boggs, Jared Hawkins, Greg Johnson, Tyler Erb, David Webb, Chris Shannon, Nick Latham, Jesse Lay, Josh Richards, Billy Green, Joey Moriarty, Robby Hensley, Austin Rettig-DNS
Sunoco Race Fuels North/South 100 – Presented by Lucas Oil Feature Finish (100 Laps):
FINISH START CAR # DRIVER NAME HOMETOWN EARNINGS
1 6 7w Ricky Weiss Headingley, MB $50,000
2 13 39 Tim McCreadie Watertown, NY $20,700
3 1 71 Hudson O'Neal Martinsville, IN $10,700
4 7 20 Jimmy Owens Newport, TN $9,800
5 10 49 Jonathan Davenport Blairsville, GA $8,900
6 12 17m Dale McDowell Chickamauga, GA $7,000
7 21 17d Zack Dohm Cross Lanes, WV $6,000
8 23 0 Scott Bloomquist Mooresburg, TN $5,800
9 25 14 Darrell Lanigan Union, KY $3,200
10 16 25Z Mason Zeigler ® Chalk Hill, PA $4,800
11 14 10C Eddie Carrier, Jr. Salt Rock, WV $3,500
12 17 22 Gregg Satterlee Indiana, PA $3,950
13 8 7R Kent Robinson Bloomington, IN $3,000
14 24 1R Josh Richards Shinnston, WV $3,750
15 26 28 Dennis Erb, Jr. Carpentersville, IL $500
16 3 1 Earl Pearson, Jr. Jacksonville, FL $3,200
17 18 40B Kyle Bronson ® Brandon, FL $2,300
18 4 2H Nick Hoffman Mooresville, NC $2,250
19 5 5 Don O'Neal Martinsville, IN $3,000
20 19 4B Jackie Boggs Grayson, KY $2,150
21 11 32 Bobby Pierce Oakwood, IL $2,800
22 9 28m Jimmy Mars Menomonie, WI $2,075
23 22 11H Jared Hawkins Fairmont, WV $2,050
24 27 21H Robby Hensley Walton, KY $2,025
25 2 76 Brandon Overton Evans, GA $2,000
26 15 97 Michael Chilton Salvisa, KY $2,000
27 20 12R Josh Rice Verona, KY $2,000
Sunoco Race Fuels Non-Qualifiers Race Finish: Shanon Buckingham, Donald McIntosh, Eric Wells, Tyler Erb, Jeremy Conaway, Doug Drown, Nick Latham, David Webb, Chad Stapleton, Scott James, Craig Vosbergen, Jesse Lay, Trevor Landrum, Austyn Mills, Jason Miller, Rob Anderzack, Jeff Alsip, Rob Mayea, Chris Shannon, Jason Jameson
Race Statistics
Entrants: 56
Lap Leaders: Hudson O'Neal (Laps 1 – 7); Earl Pearson Jr. (Laps 8 – 59); Ricky Weiss (Laps 50 – 88); Hudson O'Neal (Lap 89); Ricky Weiss (Lap 90 – 100)
Wrisco Feature Winner: Ricky Weiss
Margin of Victory: 2.284 seconds
Cautions: Josh Rice (Lap 1); Bobby Pierce (Lap 16); Michael Chilton (Lap 18); Brandon Overton (Laps 34); Robby Hensley (Lap 59); Earl Pearson Jr. (Lap 59); Jimmy Mars (Lap 59); Gregg Satterlee (Lap 65); Kyle Bronson (Lap 76); Jackie Boggs (Lap 87); Josh Richards (Lap 87); Nick Hoffman (Lap 91)
Series Provisionals: Scott Bloomquist, Josh Richards
Series Emergency Provisionals: Darrell Lanigan, Dennis Erb Jr.
Florence Speedway Provisionals: Robby Hensley
Optima Batteries Hard Charger of the Race: Darrell Lanigan (Advanced 16 Positions)
Midwest Sheet Metal Spoiler Challenge Point Leader: Jonathan Davenport
Allstar Performance Power Move of the Race: Tim McCreadie
Sunoco Race for Gas Highest Finisher: Hudson O'Neal
Hot Rod Processing Rookie of the Race: Mason Zeigler
COMP Cams Engine Builder of the Race: Vic Hill Racing Engines
Ohlins Shocks Chassis Builder of the Race: Sweet-Bloomquist Race Cars
Outerwears Crew Chief of the Race: Shawn Gage (Ricky Weiss)
Fastest Lap of the Race: Earl Pearson Jr. (Lap #8 – 16.8152 seconds)
STEEL-IT Most Laps Led: Earl Pearson Jr. (52 Laps)
Dirty Girl Racewear Farthest Traveler: Craig Vosbergen
PFC Brakes Pole Award: Hudson O'Neal
Time of Race: 68 minutes 18 seconds
---
Submitted By: Jeremy Shields
Back to News