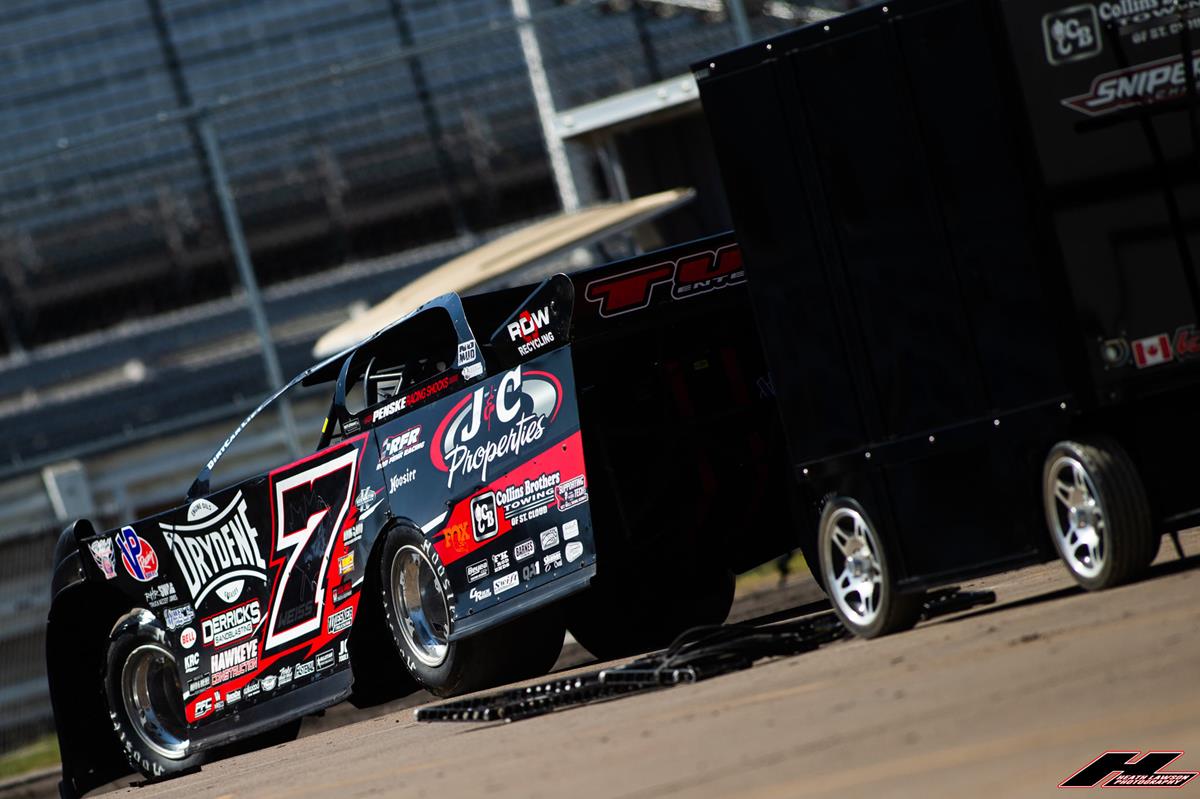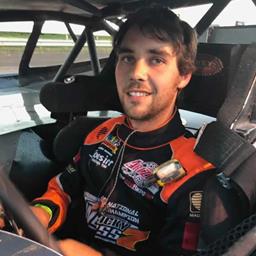 ---
Weiss races to third-place finish in Knoxville Nationals finale
Ricky Weiss piloted his Drydene Performance Products No. 7 J&C Properties / G-Style Transport/ Sniper Chassis / Vic Hill Racing Engine Super Late Model to a podium finish in Saturday night's $50,000-to-win finale for the 17th annual Lucas Oil Late Model Knoxville Nationals. (Heath Lawson photo)
"We were just trying to maintain early (in Saturday's finale), and I was trying to take care of my tires. There in the feature I really got rolling in the middle, but I was sliding a little more than some of those other guys, and that might've sealed my tires up a bit," Weiss said. "It's an honor to be battling for crown jewel wins with guys like Mikey (Marlar) and Tim (McCreadie). I'm so proud of our team for how hard everyone has been working. To roll across those scales tonight after finishing third and to see everyone smiling is just great. From Drydene to G-Style Transport, everybody has been so supportive of us as we develop this new car, and it really means a lot to our team."
Thursday night found Ricky Weiss in action at Knoxville Raceway (Knoxville, Iowa) for the 17th annual Knoxville Nationals presented by Brandt. Drawing 48 Lucas Oil Late Model Dirt Series (LOLMDS) competitors, Ricky followed up the sixth fastest lap in his qualifying group with a 10-lap heat victory.
Starting on the pole for the $7,000-to-win preliminary feature, Weiss slipped three spots in the 25-lapper to place fourth. He trailed Tyler Erb, Jonathan Davenport, and Kyle Larson to the checkers with Kyle Strickler coming in fifth.
On Friday for another round of preliminary action, Weiss ran into mechanical issues in his heat race, which sidelined him for the rest of the night.
With his fourth-place finish on Thursday locking him into the sixth-starting position for Saturday night's $50,000-to-win Knoxville Nationals, Ricky improved three spots in the 100-lap affair to register a third-place finish. He followed Mike Marlar and Tim McCreadie across the line with Earl Pearson Jr. and Brandon Sheppard rounding out the Top-5.
Back to News