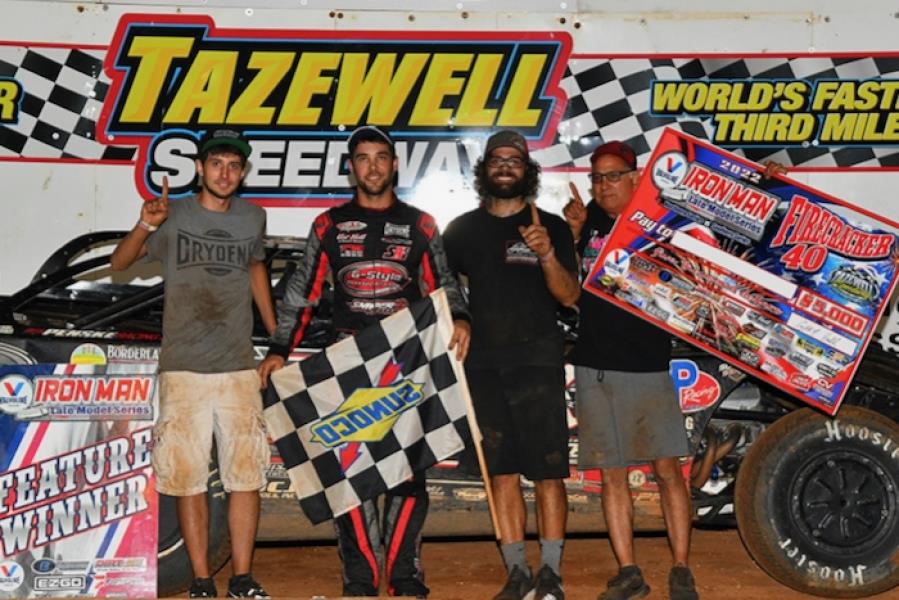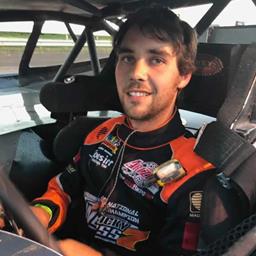 ---
Ricky Weiss tops Iron-Man Series at Tazewell Speedway
Lucas Oil Late Model Dirt Series Races on Tap this Week
Ricky Weiss notched his third win of the 2022 campaign on Sunday evening at Tazewell Speedway in his Drydene Performance Products No. 7 J&C Properties / G-Style Transport/ Sniper Chassis / Vic Hill Racing Engine Super Late Model in victory lane. (Michael Moats photo)
His winning performance at the lightning fast oval came in Valvoline Iron-Man Late Model Series action and was worth $5,000.
"It was a pretty good weekend for our team with a fifth, a second, and a win. Our car was good in the different conditions. There's a lot of big money shows in the next month, and I feel good about where we are at with this program," Weiss said. "We'll hit the road this week. We'll definitely be at Deer Creek (Speedway) for the Lucas Oil (Late Model Dirt Series) events, and if we can get everything ready, we'll be at Davenport (Speedway) on Wednesday.
"We look forward to seeing a lot of fans this week that we haven't seen in a while. Thanks so much to everyone who makes this program possible."
The Independence Day weekend opened for Ricky Weiss Racing on Friday afternoon with a visit to Boyd's Speedway (Ringgold, Ga.) for the Valvoline Iron-Man Southern Series-sanctioned Stars and Stripes 40.
With his time trial effort pinning him on the seventh row for the $5,000-to-win A-Main, Weiss advanced through the field nine spots in the 40-lapper to place fifth. He trailed Donald McIntosh, Vic Hill, Mack McCarter, and Sam Seawright across the line.
For the Hall of Fame 40 on Saturday at Lake Cumberland Speedway (Burnside, Ky.), Ricky clocked in second-fastest overall, which positioned him on the front row for the feature. Chasing Eli Beets to the checkers in the 40-lap affair, Weiss notched a second-place finish with Camaron Marlar rounding out the podium.
On Sunday afternoon at Tazewell Speedway (Tazewell, Tenn.) for the Firecracker 40, Weiss earned the second-starting position for the main event after topping the 17-car field in time trials. Overtaking Austin Neely for the lead on lap 23, Ricky raced to his third win of the season and second career series victory over Michael Chilton, Vic Hill, Eli Beets, and Matt Tharp. He earned $5,000.
Full results from the weekend are available at www.imdirt.net.
The team now prepares to hit the road with the Lucas Oil Late Model Dirt Series (LOLMDS) this week. Ricky is tentatively scheduled to compete at Davenport (Iowa) Speedway on Wednesday in a $10,000-to-win program. Thursday-Saturday will find him racing at Minnesota's Deer Creek Speedway in the annual NAPA Auto Parts Gopher 50. The weekend starts with $5,000-to-win programs on Thursday and Friday followed by a $50,000-to-win finale on Saturday.
For more information on this week's events, please visit www.LucasDirt.com.
Article Media
Back to News